An innovative automatic cleaning system, located inside the extractor, allows a vibrating action on the filter cartridges which are thus cyclically thoroughly cleaned.

Thanks to a special cyclone placed on the upper part of the sandblaster, the used abrasive is recycled effectively, while the 350 Iclean single-phase industrial extractor ensures the waste material is sent inside a wheeled container to facilitate disposal.
The sandblaster Pressure Infinity can be fitted with a pneumatic mixer (optional) to dose the abrasive, assisted by a vibrator that also enables the use of very fine particle sizes.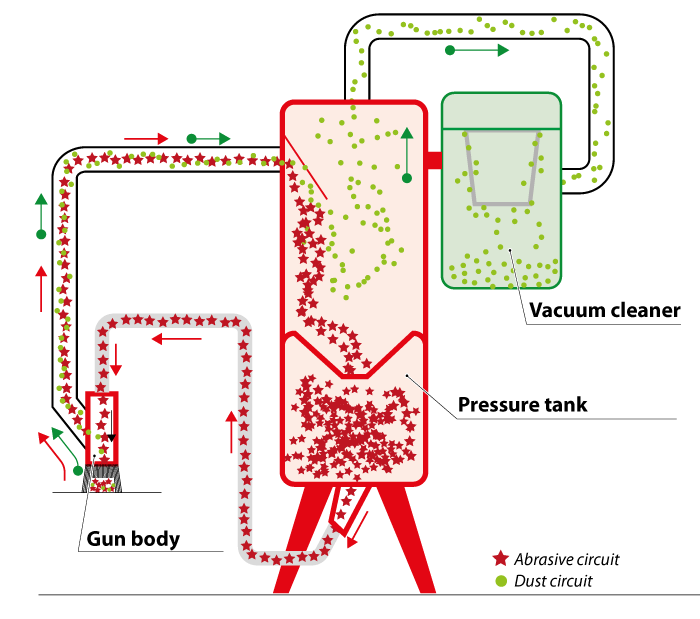 La Pressure Infinity è composta da:
SANDBLASTING UNIT

Common to all versions of the Pressure Blaster range (Base, Max, Infinity, Bag), it is fitted with a 24 L pressure tank, with remote control located on the handle.

GUN BODY

The sandblasting / shot-blasting process that enables operation in the absolute absence of dust takes place via a gun body casting with a front brush. The system uses a handle with a front brush which, working in contact with the surface to be treated, eliminates dust dispersion in the environment allowing to fully recover and recycle the abrasive used, separating it from the generated dust.


In the photo, the gun body is fitted with the optional "Double handle control handlebar". This handlebar provides great practicality while making it easier to use the sandblaster even on vertical surfaces.

SUCTION UNIT

The single-phase suction unit paired with the sandblasting unit ensures the recovery of the abrasive used and of the dust generated during removal.
The presence of a specific cyclone on the upper part of the sandblasting unit allows the recycling of the abrasive used and to collect the waste material inside the collector drum.

The separation between the dust and the abrasive allows for improved sandblasting quality and a longer life cycle of the abrasive and several advantages:

Lower maintenance costs of the parts subject to wear
Greater sandblasting speed
Greater safety for the operator
Il sistema di aspirazione permette il completo recupero e riciclo dell'abrasivo utilizzato efficacemente separato dalle polveri di scarto.