The quality standard of I-SAB components is comparable to that of our top range sandblasters.
You can combine I-SAB with your air compressor (minimum 200 litres of air delivered per minute are required) and immediately start your projects, performing treatments that previously required dispersive and uncomfortable procedures.
By using I-SAB you will immediately become a sandblasting expert.
Thanks to different abrasives ( garblast, coriblast, microlux, dustlux, bicblast ) with I-SAB you will be able to perform multiple treatments on every type of surface (iron, steel, stone, granite, marble, wood, brick, concrete etc.)
I-SAB is particularly suitable for building renovation, restoration of windows, gates, railings, wooden beams, environmental sanitation and hygiene, restoration of cars and motorcycles.
Despite its small size, the autonomy of I-SAB is equal to 8 litres which is equivalent to an approximate use time of 15 minutes. Once the abrasive is exhausted, it will be sufficient to refill the loading hopper through a simple funnel.
Station ISAB M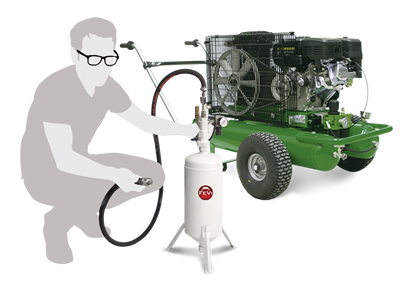 Station ISAB E